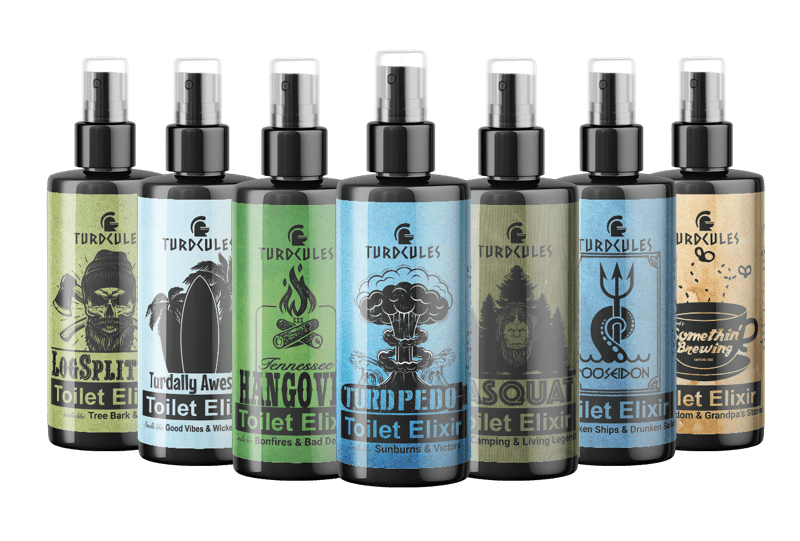 FINALLY...you can take a sh*t without smelling like sh*t...or flowers.

Centuries of research shows that you have a better chance of glimpsing the mighty Bigfoot himself than sniffing out a pile of his fresh, steamy butt nuggets. If you're wondering how our bearded-bodied bro's are crackin' off butt bazookas right under our noses, then look no further. Introducing Turdcules' Sasquat Toilet Elixir. Used by man, but made for a Living Legend.
PRODUCT DETAILS
Turdcules Sasquat Toilet Elixir
Smells like Camping & Living Legends
Really smells like Woodland Berries & a cacauphony of Evergreen Trees
100+ Uses per 2 FL/OZ Bottle
SEPTIC-SAFE
Proudly Made in the USA


Each spray of your Turdcules Toilet Elixir deploys a massive fleet of microscopic, turd-tacklin' battleships, barricading your belligerently, baneful brown bio-bombs beneath the surface of the porcelain sea.

For decades, society has gradually lowered the gavel of oppression on our manhood, and we say ENOUGH! The days of glitter beards and fruity beers are over, and a Man-volution will rise from the grease and sawdust to capture what was once ours…the toilet.


The Mountain Man Collection includes three 2 fl/oz bottles of Turdcules Toilet Elixirs - that's 300+ trips to the throne!
COLLECTION DETAILS
Turdcules Toilet Elixir - The Mountain Man Collection
Collection includes Sasquat, LogSplitter, and Tennessee Hangover
100+ Uses per 2 FL/OZ Bottle
SEPTIC-SAFE
Proudly Made in the USA